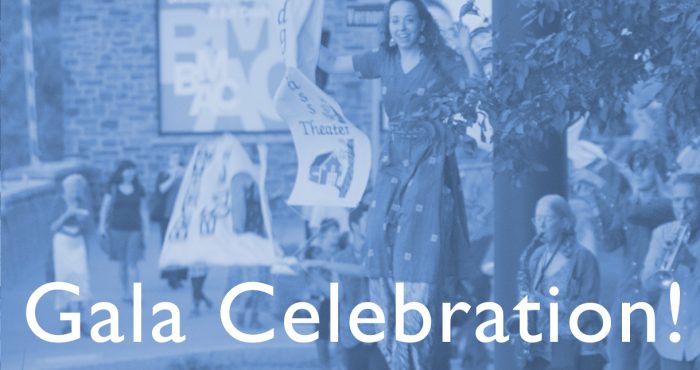 Ticket Prices (early-bird pricing until August 23):$35 individually or $65 for a pair
(For the pair, use discount code GALAPAIR at checkout)After August 23, regular pricing for the gala will be $45 individually, or $65 for a pair.Order Your Tickets Soon!
Puppets in the Green Mountains:
Opening the Doors
Gala Celebration!
Thursday, September 20 @ 5:30 pm
@ Brattleboro Museum and Art Center
10 Vernon St, Brattleboro, VT
Join us for this opening GALA celebration of Puppets in the Green Mountains at the Brattleboro Museum & Arts Center. Come and meet the international guest artists from Taiwan, the UK, and Canada, as well as our performers and other guests from around the US. Partake in a sumptuous array of sweet and savory bites, from Vermont cheeses and warm spanakopita triangles to  chocolate almond cake and lemon tartlets.
This fun-filled evening is a great way to show your support for Sandglass and the festival while Opening the Doors to 4 days of inspiring performances, talks, and workshops. On top of the sumptuous bites, we'll be serving up mock-tails to the tunes of Ron Kelley and the Hot Noodles. Also on the schedule: opening remarks from the festival and a not-to-be-missed exclusive pop-up performance!
After the Gala, follow us to NEYT for the festival's opening show: Sandglass Theater's newly revised Babylon: Journeys of Refugees. Get your tickets now while earlybird prices are still in effect, and bring a friend for even more affordable admission.
All Gala tickets include admission to the 8pm showing of
Babylon: Journeys of Refugees at the New England Youth Theater.